I was thinking about this two weeks ago, in need of facewash for my boyfriend's apartment but clueless as to what to get. A late-night trip to the drugstore prompted a decision on a whim:
CVS' Oil-Free Acne Wash
, a cream cleanser with salicylic acid similar to a Neutrogena product.
I've had lukewarm results with other Neutrogena face products in the past so I was a bit wary of getting this store-brand version. But for once I'd say I'm pleasantly surprised. I feel comfortable rubbing this stuff all over my face at the sink - no scrub beads to lose in my hairline! -and it takes off makeup pretty well. Like a lot of products it can leave my face a bit dry, but in a good way, if that makes sense. It feels like it dries out problem areas...and then I usually put on moisturizer, so it's all good.
I am happy with the other facial cleansers I presently use but wanted to try something more creamy, since I mostly have scrubs. The four products below are items I'd definitely recommend. (Stars are my top products.)
And
they offer quality for not a lot of cash.
By the way, my skin is normal though can get a bit dry and is slightly on the sensitive side.
*CVS Blackhead Clearing Scrub*
(their version of Clean & Clear Blackhead Clearing Scrub)
$3.99 at CVS
It's a creamy, light facewash with two percent salicylic acid and little blue scrubber beads. My face isn't blackhead prone so I can't speak to how well this works for that. However, I sometimes get cystic bumps and have read that
exfoliation with a salicylic acid-based product can help
, and I think it has since I started using this two years ago. What I really like is how the wash leaves my face feeling tingly and clean and doesn't leave any residue behind.
Pond's Fresh Start, Daily Exfoliating Cleanser

$6.79 at Drugstore.com
Another creamy wash with microbeads but
without
salicylic acid. Instead this product says its "white tea and china clay enriched lather purifies skin, washing away environmental pollutants." I use it when I don't want to overload on salicylic acid, especially when planning to use a benzoyl peroxide spot treatment. I can't say for certain what special things this product does, but it doesn't irritate my skin, feels nice and provides a bit of invigorating exfoliation when I'm not in the mood to use a heavy exfoliant. It's a good, simple wash to keep in the medicine cabinet when you want to clean your face and get a move-on. Check out
this review
for more info.
*St. Ives Apricot Scrub*

$3.99 at Walgreens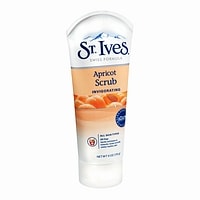 Awesome. A great, oil-free scrub that always leaves my face feeling very invigorated and soft. I tend to use it once or twice a week in the shower. It is pretty rough so I could see it irritating very sensitive skin if used too frequently. But really, if you haven't tried this stuff you must.
Queen Helene Mint Julep Mask
$3.79 at Drugstore.com

A clay-based mask with a very fresh, minty scent. (I love it, you might have to sniff it for yourself...and for $4 or less, it's a risk worth taking.) Smooth it on and wait about 15 minutes to dry, then wash off with warm water. For me, the application and waiting process is as nice as how it feels coming off. I like taking a few minutes out of my on-the-go life to relax, pick up and book or magazine and
have
to wait. Makes my face feel sooo soft, but it can be somewhat drying so I only use it once in a while. Check out
this review
for more info....and
this hilarious one
too. ("It's an oldie, but a goodie...Plus, it smells like you're boozing it up with plantation owners from the 1800's. Obviously, this scenario would only be cool if it ended with you freeing the slaves, then giving them your Mint Juleps.")
Thoughts? Or products you might recommend?